Ideal Wedding Destination
Host all of your special ceremonies with zeal and pomp at our marriage palace
Marriage is the most special and happy occasion in the lives of a couple who is about to tie the nuptial knot. The venue location you choose should be a special and memorable one that enhances the overall experience of your special day. As one of the premier wedding locations in Hoshiarpur, Raaj Mahal Wedding Destination offers the best facilities and the most experienced wedding coordinators. Our coordinators will collaborate closely with you, and organize all functions based on your preferences, from roka to vidaai. With a cultural flair combined with the venue theme, customs, and traditions, the event coordinators make the wedding even more spectacular and grand. An event such as a wedding is an occasion for everyone to wish the couple a happy future, and the event would be incomplete without entertainment elements such as music, fun, and grandeur. We strive to provide you and your guests with a memorable wedding experience with different entertainment options that will be one you will remember for a lifetime at our marriage palace. There is everything you need for the perfect wedding at Raaj Mahal Marriage Palace, from wedding décor to in-house catering services and a beer bar.
The Raaj Mahal Wedding Destination is the perfect place to book your wedding venue and we will be there to guide you throughout the process. You don't have to worry about anything because our wedding planners will coordinate and execute the event with the utmost skill to create a magical event that everyone will enjoy. Each function before the marriage ceremony has its cultural importance.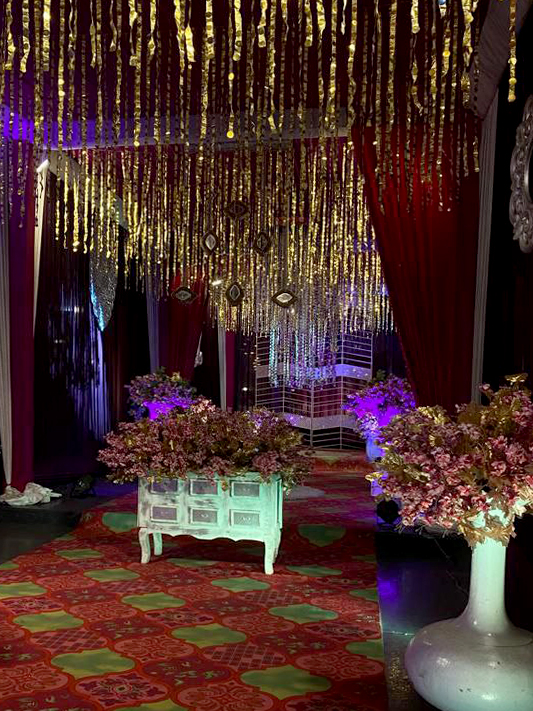 Pre to Post-Wedding Functions
Pre and post-wedding functions are traditionally part of weddings and should be well-planned and coordinated. The Raaj Mahal Marriage Palace conducts all pre-wedding events with impeccable execution since each one has a special cultural significance.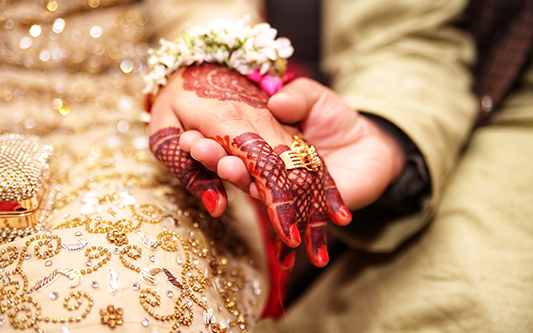 The engagement ceremony is a pre-wedding ritual that signifies the formal announcement of the betrothal. At Raj Mahal Wedding Destination, we have hosted various pre-wedding events such as engagement ceremony, sangeet ceremony and haldi ceremony with great enthusiasm. Our Marriage Palace is the city's most renowned wedding venue, if you are looking for the perfect location to celebrate your special occasion. The palace provides every impeccable facility, including elegant decor, entertainment, and hospitality, to ensure your engagement is exactly as you imagined. Whether you want to celebrate your event on large scale or intimate one, our wedding coordinators will manage everything from rings ceremony to the venue theme.
Reserve the Raj Mahal Marriage Palace for your special occasion to enjoy an experience you'll never forget.
A reception is a post-wedding ceremony in which family and relatives bless the newlywed couples. Raaj Mahal Marriage Palace has successfully hosted numerous post-wedding functions and is the city's most popular wedding location. Looking for perfect destination, consider us, where our event coordinators will help you choose a suitable venue theme to make your special occasion more spectacular and memorable. You can get a complete wedding package at our marriage palace with several amenities, such as elegant décor, entertainment, and in-house catering. Whether the event is grand or small, we provide quality services to our customers. We make certain that your guests have a great time at your event.
Make a reservation at Raaj Mahal Wedding Destination to create memories that will last a lifetime.