About Us
We create your imagination into reality
Since its inauguration in the year 2016, the RaajMahal Palace has become one of the most sought-after wedding destinations in Hoshiarpur, Punjab. Over the years, we had the honor of hosting a great number of exquisite weddings, corporate events, ring ceremonies, and other functions on our premises. It has helped us establish a loyal customer base. Whether you are looking for a unique and lavish wedding or any other occasion to celebrate, selecting this venue will be an ideal choice that you will cherish for a lifetime. From exterior to interior design, our palace site is truly spectacular. The entire venue has great decor and distinctive flair and also offers great accommodations as well. It is an exceptionally beautiful wedding venue with first-rate hospitality and amenities that makes Raaj Mahal perfect for any special occasion. Every nuptial celebration that takes place at our magnificent venue is always given a cultural twist with a contemporary expression to make them truly memorable.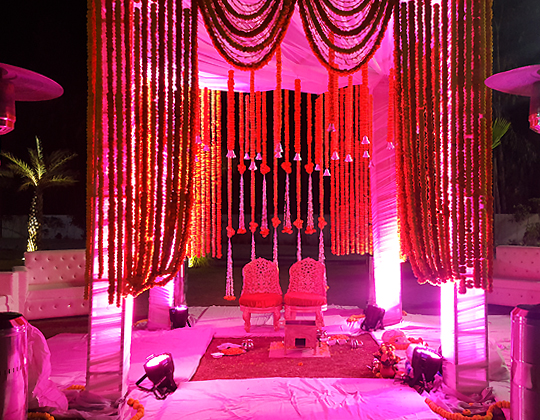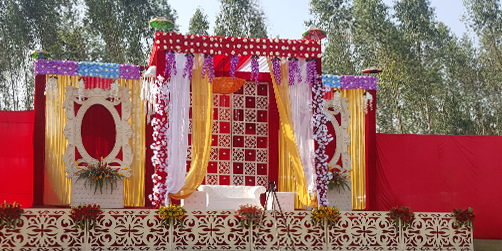 We at Raaj Mahal Palace, ensure that you receive the best services as possible and all your events are flawlessly coordinated. You can be sure that your special event will be grand and eye-catching if you choose us to host your event. Raaj Mahal Marriage Palace offers a once-in-a-lifetime experience with its stunning location, impressive architecture, and expansive indoor spaces. This palace is one of the most popular venues in Hoshiarpur for weddings, corporate events, and other special occasions. With our professional staff, you can be confident that your event celebrations will be handled professionally and at your convenience. There is an in-house catering service and beer bar at Raaj Mahal Palace to ensure that your guests have a great time during your event.
Infrastructure
With a total area of more than 216000 square feet, Raaj Mahal Palace is one of the biggest marriage palaces in Hoshiarpur making it a perfect place to host corporate events, weddings, and other social events. The lavish decor of the palace hall adds a spectacular beauty to the venue theme. The outdoor location has two lawns, one 65000sq.ft and the other 11000sq.ft, which are ideal for large gatherings where people can enjoy themselves with ease and comfort.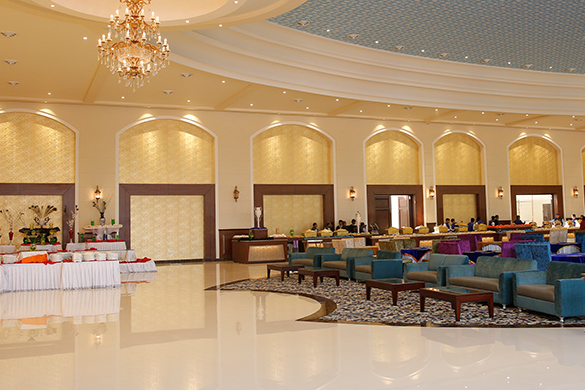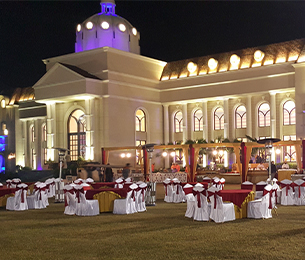 The Raaj Mahal is well-known in the city for hosting exquisite weddings. You will receive a trend-setting wedding experience through our innovative team of event planners. Modern facilities and a stunning setting make this palace a dream destination for any grand event. In our Wedding Palace, we offer our guests a wide selection of culinary delights, catering services, and entertainment options.  Its outstanding facilities and excellent services make it the city's most popular wedding venue. Raaj Mahal Marriage Palace offers two spacious rooms that are available for the bridal during the function. We have 43000 square feet of vehicle parking space that can accommodate up to 250 cars. To ensure that your guests enjoy your event, we have an in-house beer bar where everyone can relax and enjoy the event. For electricity backup, we have two large generators with capacities of 200kVA and 125kVA to ensure that your event is not affected and runs smoothly. Adequate security is provided by us in and around the palace.
Our experienced staff has helped us become one of the city's most trusted and acclaimed names for reliable, proficient, and efficient services.
Payment Mode
Customers can pay via Cash, Debit Card and Cheque to make the transaction as convenient as possible.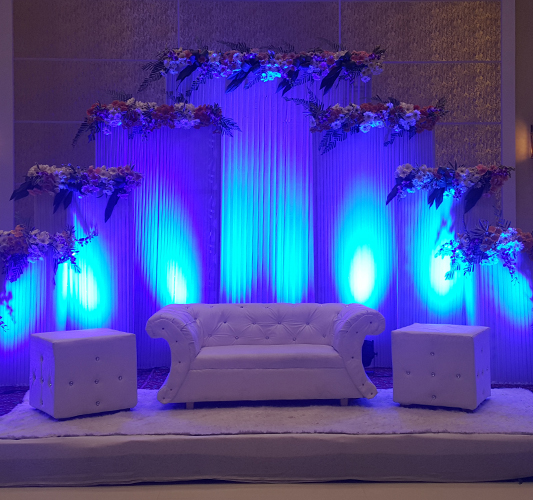 Making Your Dream Events A Reality
Whether you are planning a grand wedding or special event, Raaj Mahal Palace is the perfect venue to host. In order to plan the perfect venue theme for your special day, our event coordinators will collaborate with you to determine the best venue theme. Depending on customer preferences, our event coordinators will arrange the entire venue theme. Our venue can accommodate 2000 people, making it a perfect venue for a grand or small nuptial celebration. With our facilities and hospitality services, we ensure that your guests have an absolutely fabulous time at our venue.
It is the perfect place to tie the knot as the palace has a breathtaking view that will make your wedding an unforgettable one to remember for a lifetime. It is our promise to make your special events like wedding, corporate events, ring ceremonies and other grand with the most captivating decor exactly as you have imagined. Over the years, we have hosted various events and have become a popular destination for weddings in Hoshiarpur.